ABOUT C.O.P.S
C.O.P.S is a law enforcement member and veteran owned business whose expertise is what you need to find the right equipment for your needs.
We are a licensed Federal Firearms Dealer capable of firearm transfers for only $40.00. We will buy, trade, consign, and special order items to take care of all your firearm needs. View more information.
With an available inventory of over 2 million products, if we can't find what you're looking for, then we know who can. Either way, we'll get you what you need.
Here at C.O.P.S. we're always adding new merchandise. If you can't find what you need in our online inventory, contact us and we can find it for you. We always have items on sale, so stop by and take a look at our sale stock to see if we have anything that suits you.
Government account? No problem!
We have all of the certifications, registrations, and safeguards in place to ensure you — and only you — get the right equipment you need.
C.O.P.S. Store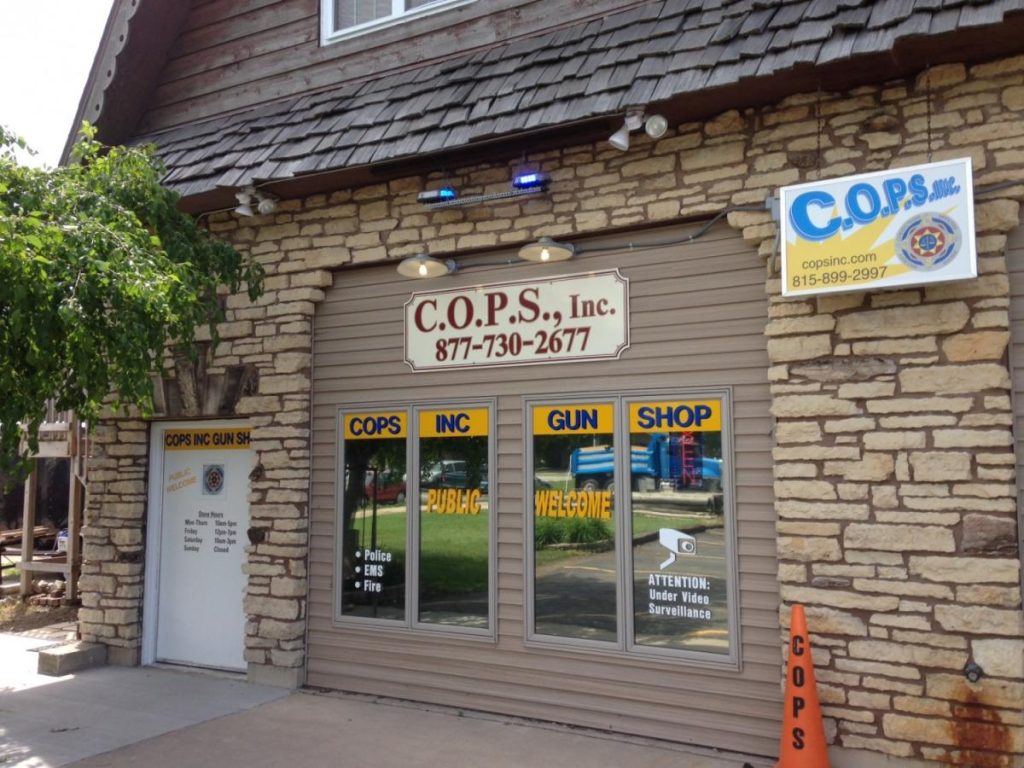 Step into our store, conveniently located near downtown Sycamore, or give us a call at 815-899-2997. We'd be happy to talk and find options that will fit your budget.
Hours
Mon–Thur: 10am – 5pm
Friday: 12pm – 7pm
Saturday: 10am – 3pm
Sundays: Closed
Please note: Our business is for the public. We take steps to ensure that authorized and verified individuals and organizations are able to purchase products from us. Many restricted products will require a letter of authorization and phone verification.
Thanks for visiting!
MEET THE TEAM
MIKE WEBB
OWNER/HMFIC
Born and raised in England, Mike moved to the U.S. in 1970 with his family in Buffalo, New York. Mike joined the Boy Scouts of America, during which time he was awarded the rank of Eagle Scout. Due to this award, he was appointed to the Mayor's advisory board.
Joining the military in 1976, he trained to be a Military Police Officer and became a part of the K-9 unit (patrol/Narcotics). Mike was sent overseas as a Noncommissioned Officer. Upon his return to the US, Mike was appointed to Kennel Master, where he trained dog teams in Law Enforcement and Security areas. During this time he also attended college classes at Los Angeles Community College and Phoenix University, where he received training certificates in areas such as Air Base Ground Defense and Presidential Protection. He was granted Top Secret Clearance to work inside command centers and nuclear weapons bases.
After two tours of duty, Mike became a nuclear security officer for Burns International Security and later a street officer for Channahon Police Department. Working two, or sometimes three, jobs, he also managed loss prevention for K-Mart and became a Kendall County Sheriff's officer. In 1984, Mike was offered a job with the Illinois Department of Corrections.
While employed with Illinois Department of Corrections, Mike finished his college degree and held positions within the department as Main Gate Security, Tower Officer, Gallery Officer, Adjustment Committee Investigator, Internal Affairs Sergeant, and Shift Commander. He has also served as a Departmental Auditor, an Institutional Trainer, Cottage Manager, and Crisis Team member.
After 23 years in the field, and because of the frustration of not being able to find the proper equipment at a reasonable price to do his various jobs, Mike created C.O.P.S. Inc. (Corrections Officers Police and Security Inc.). We offer more than 34,000 products to law enforcement, emergency services, and public safety organizations.
Interests also include computers, art, photography, eating bananas, and collecting police memorabilia.
PENNY
Owner, VP, CFO
She works as the Vice President and in charge of shipping and receiving at C.O.P.S. Inc., as well as a notary. Penny is a professional Amateur Bowler on the weekends. She is always willing to accept donations of Trace Adkins tickets or memorabilia.
KAITI
SALES
Kaiti works the front end of the shop where she handles store sales, transfers, and phone calls. She is currently working towards completing a Bachelors in Psychology alongside two minors in Family and Child Studies and in Rehabilitation Counseling. Her interests include art, photography, music festivals, nature walks, and Subaru vehicles! Sometimes, her tuxedo cat, Spooki, likes to hangout inside the shop.